International travel has evolved significantly in recent years. The need for seamless connectivity while abroad is paramount. Airalo, a global eSIM marketplace, has garnered attention as an attractive option for travelers looking for a convenient and cost-effective way to access mobile data, make calls, and send texts internationally. In this comprehensive review, we will delve into the intricacies of Airalo to assess if it truly is the ultimate choice for international travel.
What is Airalo?
Airalo is an innovative service that addresses the common challenges faced by international travelers. Instead of depending on conventional physical SIM cards, Airalo offers eSIMs, embedded SIM cards that can be downloaded and activated on compatible devices. This technology allows travelers to access mobile data, make calls, and send text messages in foreign countries without the need for a physical SIM card.
Features of Airalo
Global Coverage
Airalo takes pride in its expansive global network, encompassing over 190 countries. This means that no matter where your international adventures take you, you can expect to find an eSIM plan to match your needs. This comprehensive coverage is undeniably one of Airalo's most compelling features, making it an ideal choice for globetrotters exploring diverse destinations.
Instant Activation
One of Airalo's standout advantages is the instantaneous activation of eSIMs. Rather than navigating the process of visiting a local store, purchasing a physical SIM card, and waiting for activation, you can simply download the eSIM profile through the Airalo app or website. This feature is a game-changer for travelers valuing convenience and time-saving solutions.
Cost-Effective Plans
Airalo offers a variety of eSIM plans to cater to different budgets and needs. Travelers can choose from data-only plans or packages that include voice and text services. The pricing is competitive, often providing more cost-effective options compared to the often exorbitant fees associated with roaming on your home carrier while abroad.
Flexibility
Airalo grants travelers the flexibility to determine the duration of their eSIM plans. Whether you need data for a few days or several weeks, you can select a plan that aligns with your travel itinerary. This flexibility ensures you pay for exactly what you need.
Multi-Device Support
Airalo accommodates a wide range of devices, including smartphones, tablets, and even wearables. This versatility is particularly valuable for travelers who may have multiple devices they wish to keep connected during their international journey.
Data Top-Ups
If you discover that your data usage exceeds your initial plan, Airalo offers straightforward data top-up options. This ensures you can stay connected without any interruptions, even if your data needs evolve during your trip.
Benefits of Using Airalo for International Travel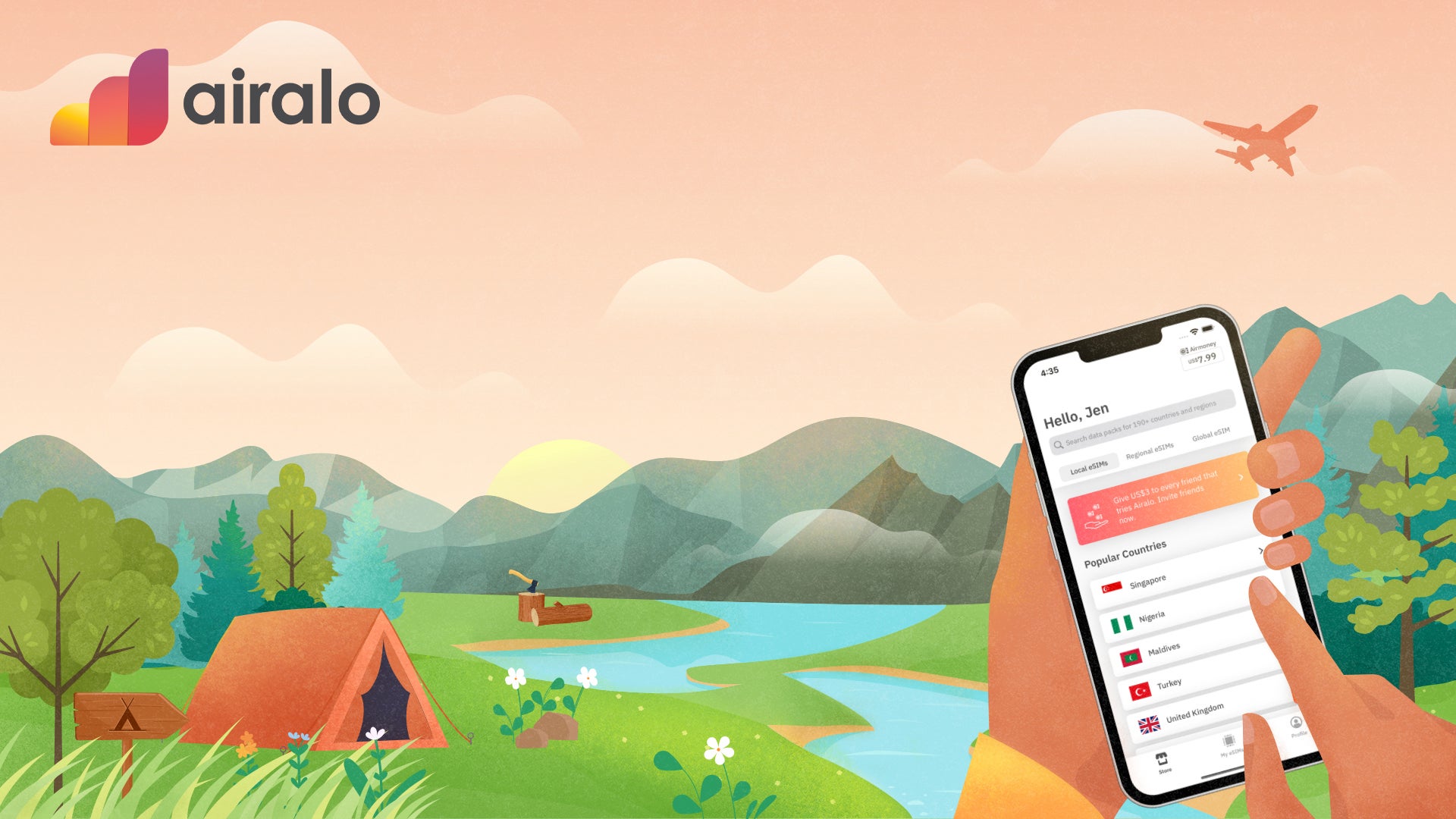 Avoid High Roaming Charges
Utilizing your home carrier's international roaming can result in shockingly high charges. Airalo's cost-effective eSIM plans allow you to bypass these steep costs while still maintaining a reliable connection.
No Physical SIM Card
With Airalo, there's no need to purchase and insert a physical SIM card, eliminating the risk of losing or damaging it during your travels.
Instant Connectivity
Airalo's instant activation ensures that you have access to data, calls, and texts as soon as you arrive at your destination. There's no waiting or setup hassle, which is a significant convenience for travelers.
Comprehensive Coverage
Airalo's extensive global network ensures you can stay connected in most countries, regardless of your travel destination. This broad coverage provides peace of mind to travelers venturing into diverse regions.
Traveler Reviews and Ratings
Airalo's platform features traveler reviews and ratings for each eSIM plan, helping you make an informed decision based on the experiences of fellow travelers. This user-generated content can be invaluable when selecting the right plan for your trip.
Drawbacks and Considerations

While Airalo offers an enticing solution for international travelers, there are some drawbacks and considerations to keep in mind:
Device Compatibility
Not all devices support eSIM technology, so you'll need a compatible smartphone or device to use Airalo's service. Before your trip, it's essential to confirm whether your device is eSIM-enabled.
Limited Voice and Text Services
Some eSIM plans on Airalo are data-only, which means you may need to rely on alternative messaging and calling apps for voice and text services. While this isn't a significant drawback, it's essential to consider if you rely heavily on traditional voice and SMS communication.
Coverage Limitations
While Airalo covers many countries, there may still be destinations where you cannot find eSIM plans. In such cases, you may need to resort to a physical SIM card. Research your specific travel destinations to ensure Airalo offers coverage.
Internet Access Required
To download and activate an Airalo eSIM, you'll need an internet connection. While this may not be an issue in most urban areas, it could be a challenge in remote locations with limited internet access.
Research Required
Choosing the right eSIM plan on Airalo requires some research to ensure it matches your specific needs. With numerous options available, taking the time to find the perfect plan is essential for a smooth travel experience.
Conclusion
Airalo presents an attractive solution for international travelers looking for a convenient, cost-effective, and straightforward way to stay connected abroad. Its extensive global coverage, instant activation, flexible plans, and competitive pricing make it a solid choice for many travelers. However, it's crucial to consider device compatibility, coverage limitations, and the availability of voice and text services when determining if Airalo is the ultimate choice for your international travel needs.
In summary, if you value staying connected without the worry of high roaming charges and are willing to invest time in researching the right eSIM plan, Airalo is a strong contender as the best choice for international travel. Its innovative approach to mobile connectivity has the potential to enhance your travel experience, providing convenience, cost savings, and peace of mind.