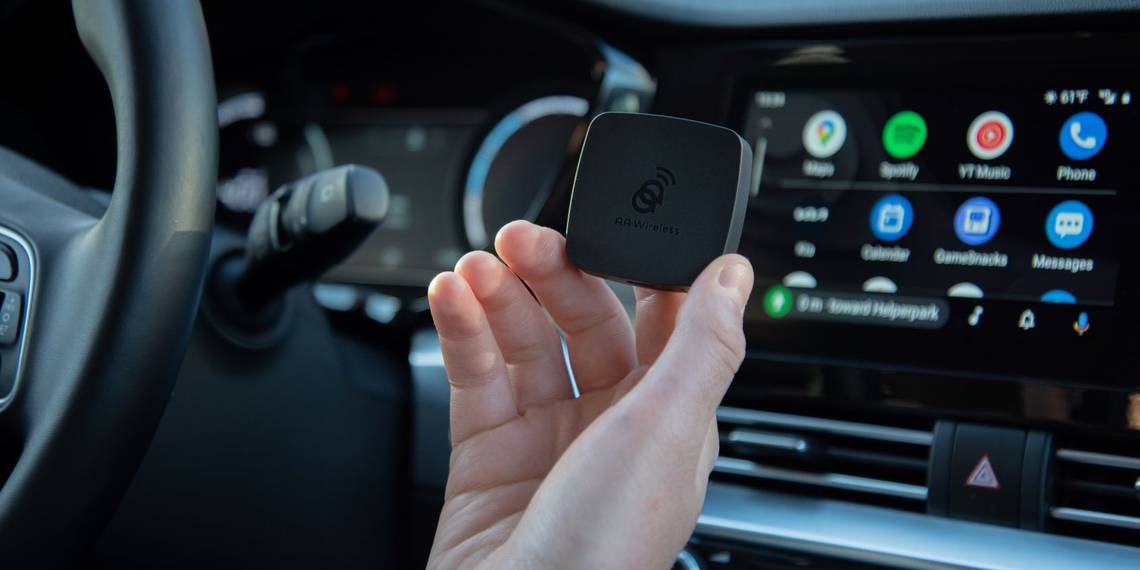 Android Auto is the preferred software for millions of car owners. Using it allows you to access Android apps while keeping you focused on your drive. Whether it's pulling up song you want to hear, setting directions to your destination, or making a phone call, you can do it with a touch on your car infotainment system's touchscreen. Even better, you can voice command the inbuilt Google Assistant to carry out the tasks. However, you often have to connect your phone via a cable every time you drive, which can be an inconvenience.
Many of us would agree that it would be great to use Android Auto wirelessly. But what if your car doesn't have a Wi-Fi connection or you're happy with your old phone? How can you use Android Auto wirelessly without breaking the bank?
You can change all that with the AAWireless dongle for Android Auto. This nifty and affordable device frees you from plugging in cables, and best of all, it's affordable. You can get it for just $89.99, which makes it a better value compared to the expensive built-in systems on the market. Best of all, you can get it now with a limited-time 15% discount during the AAWireless Easter Sale between April 1-10, 2023. If you're not convinced, here are five reasons why you should zero in on this Android Auto wireless solution.
1. AAWireless dongle is the best affordable wireless Android Auto experience
Yes, a new infotainment system and a new phone can be an expensive combination to invest in. But you don't need to do that as AAWireless has you covered. In 2019, AAWireless, a Dutch company, invented a smart solution to use Android Auto wirelessly in almost any car. This innovative AAWireless dongle had a very successful crowdfunding run on Indiegogo. It became a sensation since it was the first wireless Android Auto dongle, and it's still one of the best in the market.
2. Simple one-time installation
The AAWireless dongle is a small adapter that fits into your hand. Plus its simple one-time installation makes it a breeze to use. You just need to plug it into your car's Android Auto-enabled USB port, using the USB Type-C cable included in the box. Then, connect your phone to your AAWireless dongle via Bluetooth. That's it! Do this just once and your phone and your infotainment system get connected wirelessly. No need for more wires or another connection again.
Now, whenever you start your car, your phone connects to your infotainment system automatically and Android Auto will appear on your infotainment screen. Now you can put your phone in your pocket and drive on with wireless convenience.
3. Enjoy a personalized experience with the AAWireless app
The AAWireless dongle comes with its own smart companion app, which makes using it that much smoother. Besides instant OTA updates to update the dongle, you can personalize the Android Auto experience. You can try experimenting with the split-screen capabilities, or play with the screen's pixel density and Wi-Fi settings.
Moreover, this free app's advanced troubleshooting tool will help you solve issues like connectivity problems and customization options. You can also contact customer support easily.
4. Tech meets quality: Dutch origins, European standards
AAWireless is committed to the highest quality standards. To achieve that, it moved its production to Europe last year. Unlike many gadgets, which are made in China, the AAWireless dongle is designed in The Netherlands and manufactured in Hungary. The aim was to gain more control over the production process, improve product quality, and offer an advanced solution to discerning customers like you.
5. Easy to own and available on Amazon
The AAWireless dongle is exclusively available on Amazon, so you can expect fast shipping and easy returns. Plus, the hundreds of positive reviews will assure you that the AAWireless dongle is a smart investment and the best way to enjoy Android Auto wirelessly.
With millions of users in more than 135 countries, the AAWireless dongle's popularity is only growing by the day. Today, the AAWireless dongle is being used in over 10,000 different types of cars worldwide, and your car could be next.