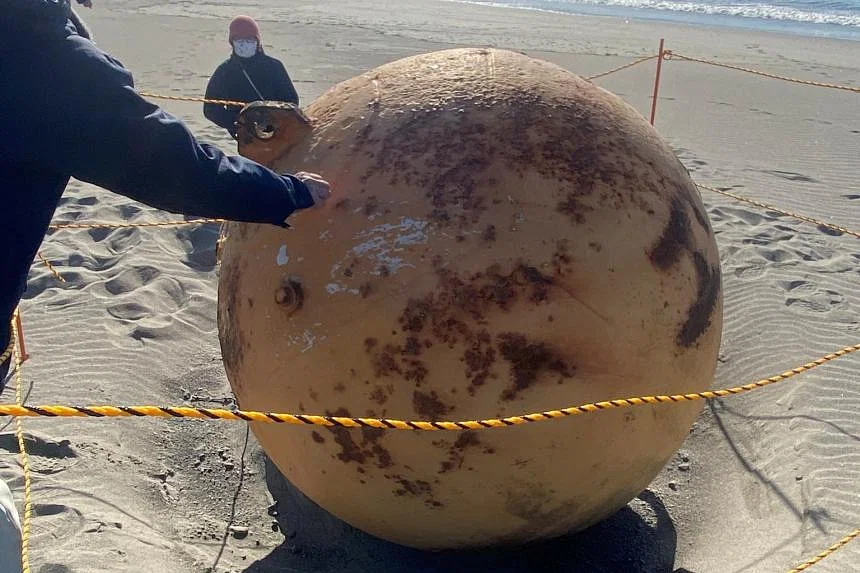 A large metal sphere found at a beach shore in Japan's coastal city of Hamamatsu has set off a flurry of speculations in the country.
New Delhi: A large metal sphere that washed up on a shore in Japan has set off a flurry of speculations in the country about what it is. While locals are perplexed, authorities like the police and bomb squad sent to investigate are unable to ascertain the nature of the object.
According to a report by the BBC, the only element about the object confirmed so far is that it's hollow and hence, not a threat.
Fascinated locals have come up with various suspicions that the find in coastal city Hamamatsu could be a "Godzilla egg", "mooring buoy" or "from outer space". Other suggestions included a resemblance to something from the popular manga series Dragon Ball, while others said they believed it was a UFO that had fallen from the sky.
Japanese broadcaster NHK released footage of two officials on Enshuhama Beach looking at the rusty metal sphere that is estimated to be about 1.5m (4.9ft) wide.
A local had found it and alerted the police about the unusual object on the shore.
The area was cordoned off and authorities conducted X-ray exams which did not reveal much, although it confirmed that the object was safe, as per the BBC report.
It mentioned that A runner on the beach told local media that he was surprised by the commotion, as the ball had been there for some time. "I tried to push it but it wouldn't budge," NHK quoted him as saying.
Local authorities have said the object will be removed soon.
Generally, such things would not raise suspicion, however, there has been general nervousness about unidentified objects after the US spotted and shot down a suspected Chinese spy balloon earlier this month.
Notably, Japan separately expressed concern to China on Wednesday that it spotted suspected surveillance balloons over its skies at least three times since 2019 – an allegation it first made last week. Beijing denied the claims of espionage.