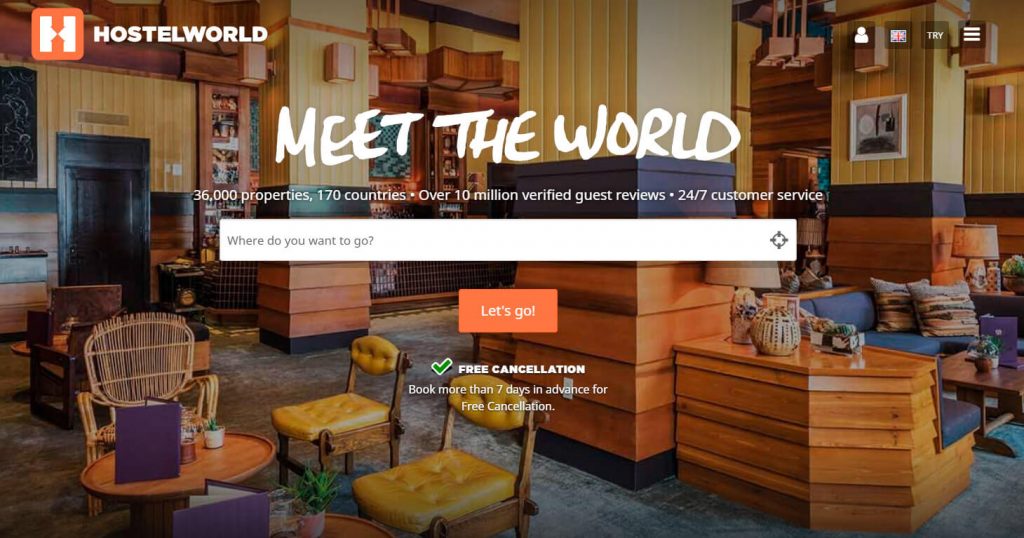 What is Hostelworld?
Hostelworld is the world's largest website for booking hostels and budget accommodations.
If you've researched about hostels in the past, chances are you've already come across their website. Their impressive list includes 36,000 properties in 170 countries.
Is Hostelworld reliable?
Yes, Hostelworld is reliable, legal and safe to book through our platform. In fact, he is one of the most popular sites for backpackers.
They have secure payment gateways so you don't have to worry about credit card details or booking security.
Although the site has a large audience, it has a great system to help avoid overbooking and other common booking issues.
How to use Hostelworld?
Hostelworld is a very easy platform.
To create a comprehensive list of hostels, you will need to enter your destination and travel dates. You can filter them not only by price, but also by reviews from other Hostelworld users.
Tips for booking top-notch hostels:
Check the number of user reviews. Sometimes hostels get good reviews, but only from a few feedbacks. It's also best to read other user reviews to find out which one really suits your taste.
How to cancel a booking with Hostelworld?
This one is a bit tricky. Personally, I do not like to cancel anything like flights, hostels, accommodation, tours. There is always this annoying terms & conditions – no-one reads anyways.
How does it work with Hostelworld?
To avoid no-show or late cancellation charge, you may cancel your reservation with Hostelworld at least 24 hours ahead of your arrival date, unless otherwise stated by your chosen property.
After 24 hours, you will no longer be able to cancel your reservation online. Cancellations after this time will be considered a late or no-show and additional charges may apply.
To cancel a booking on Hostelworld, you must log into your account, find the booking and click "Cancel".
The property will be automatically notified once this is completed.
Cancellation fees depend on the conditions of the accommodation stated at the time of booking and confirmation of the booking.
Customer Service
Hostelworld is very accessible and offers 24/7 customer service.
A confirmation email will be sent once the reservation is completed. Please enter it correctly.
Do I really need to explain why?
If you enter an incorrect e-mail address, you may not receive confirmation and may have difficulty accessing the details required for your reservation. it's simple.
Final Verdict
Is Hostelworld trustworthy? Yes, it is trustworthy and trustworthy.
Is Hostelworld safe? Yes, it's very safe Credit cards are safe, bookings are safe. Can I use Hostelworld for my booking? Yes, of course!
It's a really trustworthy platform with super cool hostels around the world. Hostelworld is one of the few websites every backpacker in the world needs to know about.
We're here to answer all your questions and hopefully help you understand the hostel website better.