What is FlixBus?
FlixBus was founded in Munich in 2011 by three German men. Their business model is quite interesting as the company doesn't actually own any of the buses or employ any of the drivers. Instead, FlixBus contracts with local companies to provide and run the buses. This has allowed them to scale quite quickly both in the United States and in Europe. They have 90% of the market share in Germany. But, this also makes it difficult for anyone to predict the quality of service from FlixBus as it can vary quite drastically depending on the local buses and customer service of the staff. 
That's not the only thing the company does well. FlixBus has a seamless booking system on both their website and app. It is incredibly easy and straightforward to view the available options for planning your journey by choosing applicable ride times and dates and paying for the trip online.  
How to Use Flixbus?
Flixbus is a super simple service to use as everything is booked entirely online. If you already know your destination and dates, simply put that information into their booking widget and click search. Many of their routes run more than once per day, so you'll be able to choose which time is most convenient for you. You can also sort by price if this is more important.
We also love using their website to plan spontaneous trips. If you head to their route map and click on a city, you can see all of the destinations that depart from that city. You then click on a destination that appeals to you and select your trips. This allows you to check out how much the journey costs, what dates it runs on and whether it suits your budget.
Finally, Flixbus also have a fantastic app that is available on Apple and Android devices. This app lets you book straight from your phone and store your ticket. You don't need to worry about printing off tickets in advance – just make sure you keep your phone charged. Haven't got the app? You'll also be sent your confirmation via email and this is also valid.
Benefits of using FlixBus
Free Wi-Fi
Wi-Fi is included on all Flixbus buses. That being said, it's basic Wi-Fi, with no streaming capabilities. You'll also be limited in how much data you can consume before your connection speed is reduced.
Real-time Info
When you travel with FlixBus, you can easily check your route for real time updates. You can search using your confirmation number or just by departure/arrival location. The search results do occasionally yield "no data" results, though. The best way to have up-to-date information on your journey is to check the FlixBus app.
Luggage allowance
Unlike planes, where low-cost tickets come with no baggage, FlixBus allows you to bring two bags. You can place one in the hold under the bus and one on the bus with you. If you put a bag under the bus, it's a good idea to check on it at each stop. 
Travel in comfort
All buses are equipped with extra legroom seats, and the seats also recline with adjustable backrests. If you want to reserve a specific seat or the seat next to you for extra space, you can do this for a small fee.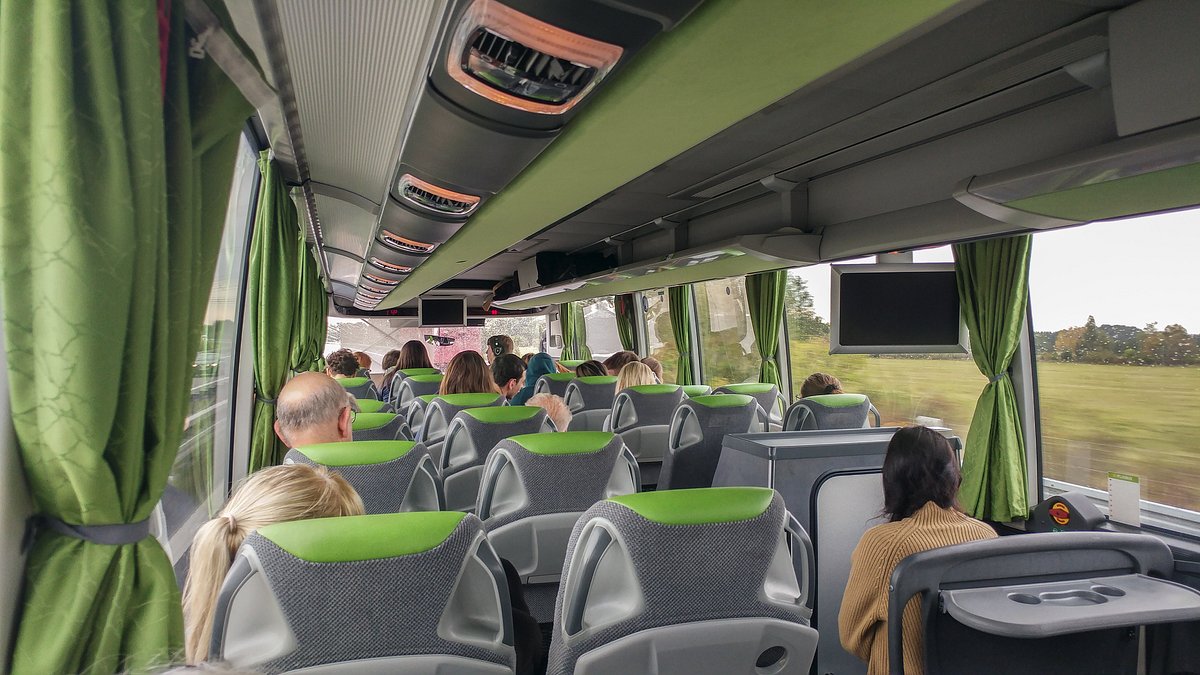 Is FlixBus safe?
FlixBus is generally considered a safe mode of transportation, with several measures in place to prioritize passenger safety. The company partners with licensed bus companies that adhere to local and international safety regulations.
Their modern fleet of buses undergoes regular maintenance and inspections to ensure safe operation. Drivers are trained in safe driving practices, customer service, and emergency response. Technological tools like GPS tracking and real-time monitoring enhance safety and transparency for passengers.
However, as with any mode of travel, factors beyond the company's control, such as road conditions and weather, can impact safety. It's advisable to research recent reviews, consult official sources, and consider personal comfort levels when evaluating the safety of traveling with FlixBus.
Customer Experience
The overall customer experience with FlixBus can vary based on factors such as route, time of travel, and individual preferences. While many travelers have reported positive experiences with punctual departures and friendly staff, there have been occasional complaints about delays and communication issues. FlixBus's customer service team is generally responsive and helpful in addressing concerns, but it's advisable to keep some flexibility in travel plans, especially when time is a critical factor.
Conclusion
In conclusion, FlixBus offers a compelling proposition for travelers seeking a balance between affordability, convenience, and sustainability. Its extensive network, comfortable amenities, and budget-friendly fares make it a worthy contender for those planning intercity travel. While occasional hiccups may occur, FlixBus's commitment to safety and environmental responsibility, coupled with its user-friendly booking platform, render it a strong choice for both solo adventurers and families alike.
As with any mode of travel, conducting thorough research and considering personal preferences will ultimately determine if FlixBus aligns with your travel goals. Whether embarking on a scenic journey through the European countryside or exploring the diverse landscapes of North America, FlixBus offers a unique opportunity to navigate the world of travel with a blend of affordability, comfort, and conscientiousness.