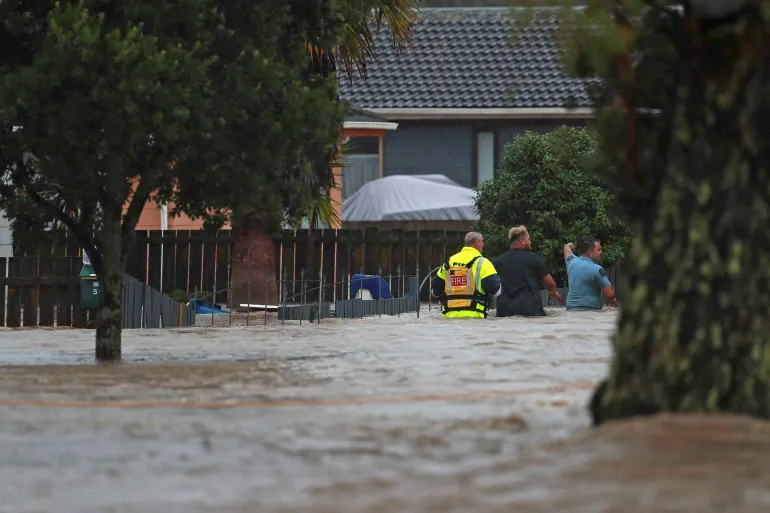 Flooding has caused major disruption in New Zealand's largest city, with officials closing the airport and declaring a state of emergency
New Zealand authorities on Friday declared a state of emergency in the country's largest city, Auckland, after heavy rains caused widespread flooding.
The flash flood created dangerous driving conditions and forced the city's airport to close, with all flights canceled until at least noon Saturday, officials said.
A concert forming part of singer Elton John's farewell tour of the country also had to be canceled.
Up to 250 millimeters (10 inches) of rain is expected throughout Friday, with more rain expected through Saturday, according to the MetService.
Streets were flooded, causing significant traffic delays and several terminals at New Zealand's largest airport were flooded up to their ankles.
On Friday night, traffic officials closed part of Route 1, the main road through the city.
Emergency services face numerous calls for help, including being told not to contact emergency services unless you are in "life-threatening" danger.
Auckland Mayor Wayne Brown said at a news conference late Saturday that bodies had been found in the northern suburbs, though it was not clear if the deaths were due to flooding.
New Prime Minister Chris Hipkins, who took office Wednesday following the shock resignation of Jacinda Ardern, wrote on Twitter that government agencies are "going full force" to help.
Amid the chaos, British star Elton John's concert at Mount Smart Stadium was canceled just before it started.
Organizers said the cancellation was due to uncertain weather conditions.
About 40,000 people were expected to attend the evening's concert, but thousands were already at the venue when the event was cancelled.
The concert was billed as part of a final farewell tour for John, 75, one of the world's most famous musicians.