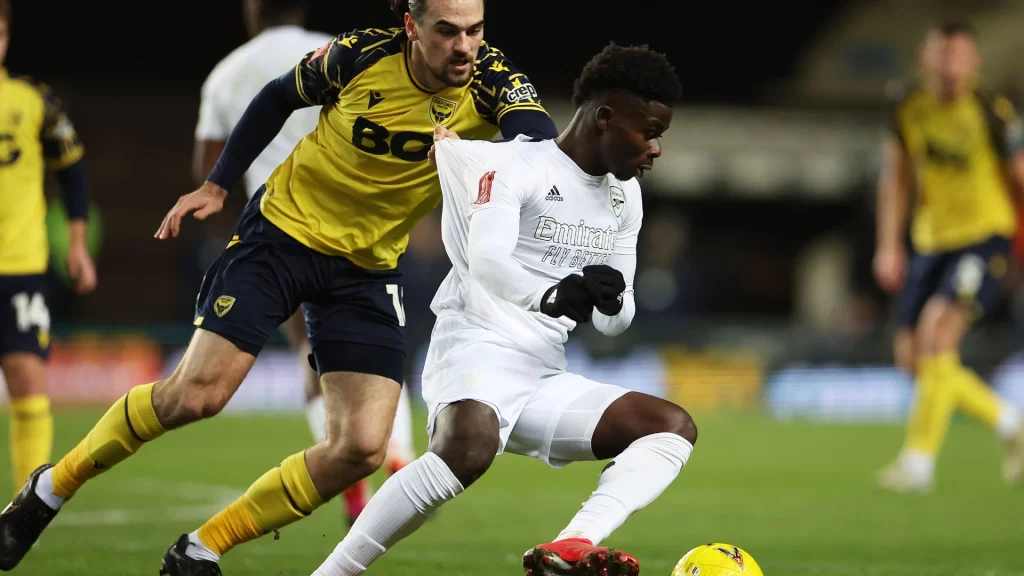 Eddie Nketiah scored twice in the second half as Arsenal beat Oxford United 3-0 to set up an attractive FA Cup fourth round match against Manchester City.
The Gunners travel to the Etihad in the final weekend of January thanks to a much improved performance in the second 45 minutes at Kassam Stadium.
Mikel Arteta's side failed to find a shot in a dismal first half as Oxford frustrated their Premier League leaders, but Mohamed Erneny scored his first goal of the season in the 10th minute of the second period. put them on track.
Nketiah then continued his impressive form in front of goal with two dominating finishes that ended Oxford's stubborn resistance, ensuring Arsenal advanced to the fourth round.
Nketiah continues sparkling form while Vieira shines
Arsenal have won 19 of their 24 games this season and named the Strong Eleven ahead of League One side Oxford.
But the Gunners looked nothing like the swaggering side that have opened up a five-point lead at the top of the Premier League, with Oxford – who are 14th in the third tier – holding them at bay with relative ease during the first half.
The only dangerous moment came when Elliot Moore blocked Albert Sambi Loconga's shot with his arm in the box, but referee David Coote dismissed Arsenal's claim.
Arteta was probably not happy with what he saw from his side and was arguably relieved after half-time when Bukayo Saka woke up to see Lewis Bate's shot off the line. .
Ernény's header from a charming Fabio Vieira free-kick finally eased the tension, and the Portuguese midfielder called for another assist as Nketiah, who set up a superb through ball, rounded goalkeeper Edward McGinty, Pushed the ball home.
Oxford can take heart despite defeat
Oxford's hopes of creating an FA Cup shock to stand alongside Stevenage's win at Aston Villa on Sunday did not materialise but Karl Robinson's side can take plenty away from this match despite defeat.
They were untroubled for the first half but the major problem for Oxford was they did not possess any threat of their own in the attacking areas and Arsenal goalkeeper Matthew Turner, in for the rested Aaron Ramsdale, had a very quiet night.
To Oxford's credit, they tried to maintain their passing style and were well-drilled throughout the first half when Arsenal could not make any inroads.
It was also a night for Oxford's fans to send a message off the pitch with a huge banner behind the goal reading "SOS Support Our Stadium. Secure Our Future. 24/01/23".
This was a reference to plans to build a new stadium and move away from the Kassam, which will be discussed by Oxford council officials on 24 January and which the club regard as vital if they are to have a more prosperous future.