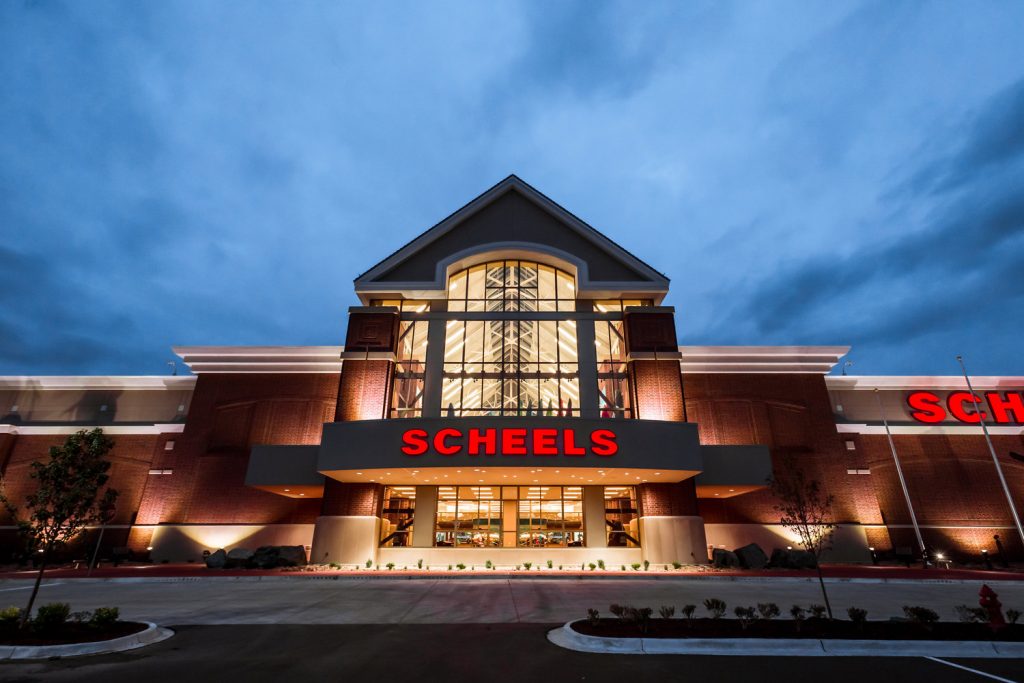 What is Scheels?
Scheels is a chain of retail stores in the United States that specializes in sporting goods, outdoor gear, and apparel. The company was founded in 1902 in Sabin, Minnesota, and has since expanded to operate over 30 stores in 14 states across the country.
Scheels stores typically offer a wide selection of products for activities such as hunting, fishing, camping, hiking, running, cycling, and team sports. In addition to gear and equipment, Scheels stores often feature indoor attractions like Ferris wheels, shooting galleries, and aquariums, as well as specialty shops for items such as golf clubs, firearms, and footwear. The company is known for its customer service, extensive product knowledge, and commitment to creating a fun and memorable shopping experience.
How it started?
Scheels was founded in 1902 by Frederick A. Scheel in Sabin, Minnesota. Initially, the company was a small hardware and general merchandise store that catered to the needs of local farmers and ranchers.
In the early 1920s, Scheel expanded its product line to include sporting goods, focusing on hunting and fishing gear. This move proved successful, and the company began to gain a reputation for its expertise in outdoor equipment.
Over the years, Scheels continued to expand its offerings and opened additional stores in North Dakota, Iowa, and South Dakota. Today, the company is headquartered in Fargo, North Dakota, and operates over 30 stores in 14 states.
Despite its growth, Scheels has maintained its commitment to providing customers with high-quality products and exceptional service. The company is still family-owned and -operated and has a strong culture of community involvement and philanthropy.
Products
Scheels offers a wide variety of products, primarily in the categories of sporting goods, outdoor gear, and apparel. Some of the products available at Scheels stores include:
Hunting and shooting gear: rifles, shotguns, ammunition, scopes, binoculars, hunting blinds, and decoys.
Fishing equipment: rods, reels, lures, bait, fish finders, and tackle boxes.
Camping gear: tents, sleeping bags, backpacks, camping stoves, and lanterns.
Hiking and outdoor equipment: hiking boots, trail shoes, backpacks, hydration systems, and GPS devices.
Fitness and exercise equipment: treadmills, elliptical machines, weightlifting equipment, and yoga mats.
Team sports gear: baseball, basketball, football, hockey, soccer, and volleyball equipment.
Golf equipment: golf clubs, bags, balls, and accessories.
Clothing and apparel: athletic wear, outdoor clothing, footwear, and accessories.
Scheels also carries products from a variety of well-known brands in the industry, such as Nike, Under Armour, The North Face, Columbia, Patagonia, and Carhartt, among others.
Customer support
Scheels is known for its exceptional customer service and strives to provide a positive shopping experience for all of its customers. The company offers a variety of support options to help customers with questions, concerns, or issues.
In-store assistance: Customers can visit any Scheels store to receive personalized assistance from knowledgeable staff members who can help with product selection, sizing, and other issues.
Online support: Customers can contact Scheels' customer service team through the company's website to get assistance with orders, shipping, returns, and other issues. The website also features a detailed FAQ section that answers many common questions.
Phone support: Customers can call Scheels' customer service team at 1-800-SCHEELS (1-800-724-3357) to get help with any issues or questions.
Social media: Customers can connect with Scheels through its social media accounts, including Facebook, Twitter, Instagram, and YouTube, to ask questions, get product recommendations, and learn about new products and promotions.
Overall, Scheels is committed to providing excellent customer service and support to help customers find the right products for their needs and have a positive shopping experience.
Conclusion
In conclusion, Scheels is a company that has stood the test of time. They have been providing quality sporting goods and outdoor gear to people for over a century and have become a staple in the industry. What sets Scheels apart from their competitors is their commitment to offering top-of-the-line products and unmatched customer service. Additionally, their unique in-store experiences and community involvement make them a company that people want to support. Whether you're an avid outdoorsman or just looking for some quality gear, Scheels is a company that you can trust to provide the best.