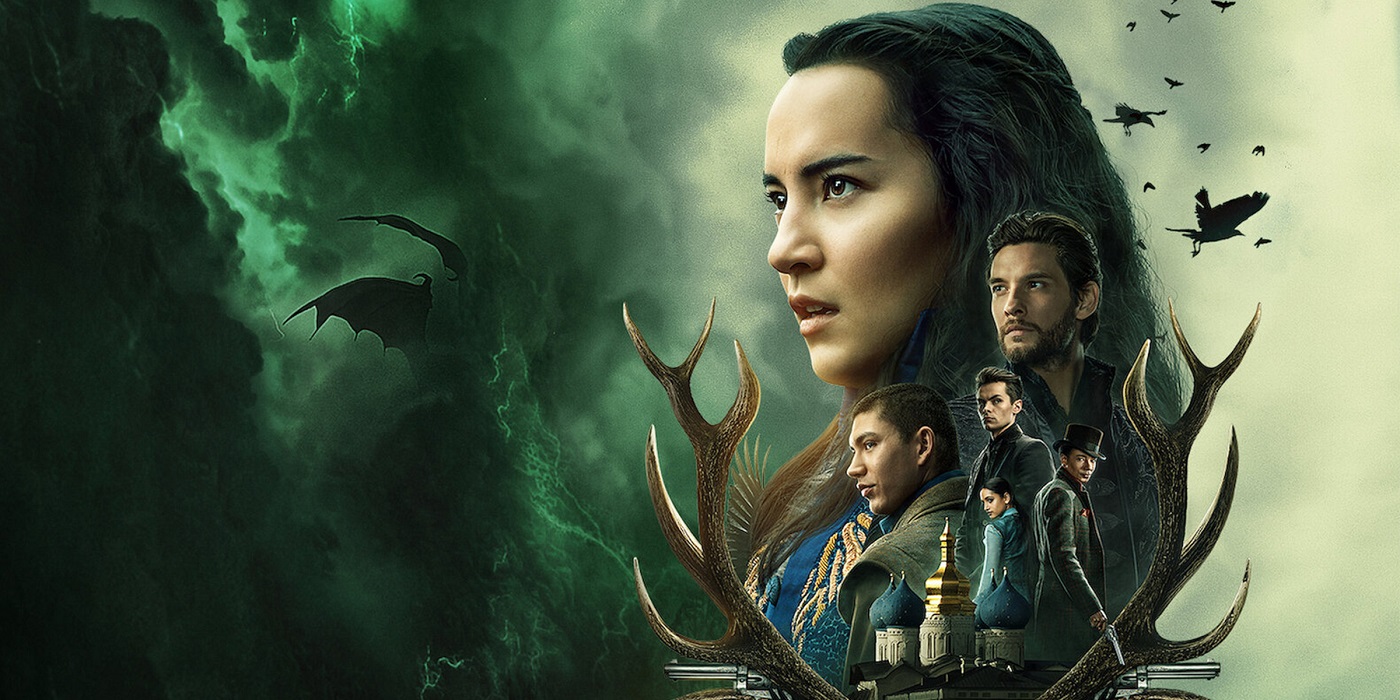 When Shadow and Bone first premiered on Netflix in April 2021, it became a smash hit for the streaming giant. The historical fantasy is based on two different book series in Leigh Bardugo's Grishaverse universe, the Shadow and Bone trilogy and the Six of Crows duology.
The Shadow and Bone plot follows Alina Starkov (Jessie Mei Li), a Grisha (a.k.a. person who can do magic) who can summon light, also known as a "Sun Summoner." At first, she works with General Aleksander Kirigan (Ben Barnes), the general of the Second Army, which consists entirely of Grishas. She wants to destroy the Shadow Fold, also just called the Fold, a region of darkness in Ravka. However, by the end of the season, Alina realizes Kirigan is evil, and can summon darkness—and is the reason for the Fold. (He's also called "The Darkling.") Her childhood best friend, Mal Oretesv (Archie Renaux) is also part of this story—we'll get back to him.
The second plotline uses characters from the Six of Crows, but is not a straightforward adaption of that book. Kaz Brekker (Freddy Carter) is the leader of the Crows, and the crew consists of Inej (Amita Suman) and Jesper (Kit Young). The Crows are hired to kidnap Alina, which does not happen in the books—it's a new plot that allows the Crows characters to overlap with Alina and her story.
There's also a third plotline, which features Nina Zenik (Danielle Galligan), a Grisha who is a heartrender. Nina is taken captive by Drüskelle, or witch-hunters, from Fjerda, but when their ship sinks, she is abandoned with one of the Drüskelle, Matthias (Calahan Skogman).
In the final episode of season one, "No Mourners," Nina and Matthias finally make it back to civilization in Ravka, and are no longer enemies—they have feelings for each other! But, Kirigan's Grisha soldiers find Nina, and she knows if they get Matthias, they will kill him. So, she decides to say he's a slaver, so a bounty hunter from Ketterdam arrests him. Nina figures he's safer in Hellgate prison, away from the Second Army. Matthias thinks she betrayed him by sending him to prison; this tension will come into play in a major way in season two.
Elsewhere, Kirigan uses Alina's powers so the ship they're on can pass through the Fold—and also expands the Fold, which she does not want to happen. On the same ship, Mal, Inej, Jesper, and Kaz are stowing away, and they go up to the deck to fight Kirigan. A lot of fighting happens, but what you really need to know: Alina realizes the ancient, magical stag is an amplifier for her power, not Kirigan's, and Kirigan is pushed off the ship, and is swept away by volcra (monstrous creatures). However: He does not die, and remains the main villain in season two.
Thanks to Alina's powers, the ship reaches safety outside of the Fold, and Alina, Mal, Kaz, Inej, and Jesper convene in a field, where Inej swears her loyalty to Alina and Kaz promises not to reveal her identity. The Crows then return to Ketterdam (on the same ship Nina and Matthias are on), and Alina and Mal go on the run.
And now you're ready for Shadow and Bone season two, which is streaming now.