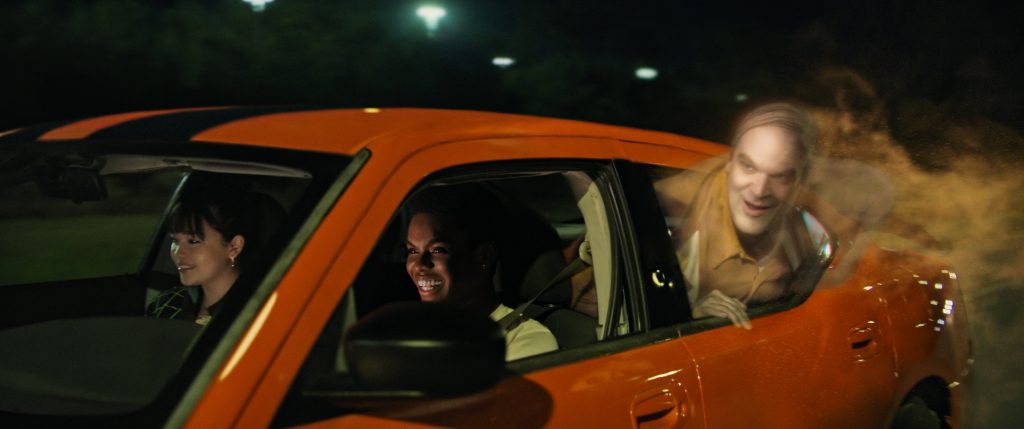 It's a really great time to be David Harbor. His career got a huge boost thanks to his Stranger Things on Netflix. Since then, he has garnered critical acclaim on stage, starred in a Marvel movie (Black Widow in 2021), is now reportedly working on a video game, and is an international sex star with a GQ profile. It has become a symbol.
His latest movie is back via Netflix. In We Have A Ghost, Harbor faces an entirely new challenge. How do you make an impression without dialogue? Harbor plays Ernest, a ghost who haunts the house Anthony Mackie's Frank and his family just bought. The house was suspiciously cheap, but the family settled in anyway. The family's 16-year-old son Kevin spotted Ernest in the attic, but instead of being frightened, he was almost amused, calling the ghost over the phone. I took a picture. 
Ernest becomes a viral sensation after his family uploads the video to the Internet. Of course, it doesn't take long before the government knocks and your typical villainous agent (Tig Notaro) tries to arrest Ernest.
Most of the movie's sheer run time finds Kevin and his girl-next-door, Joy, trying to figure out what happened to Ernest. Ernest cannot speak or remember what happened to him, but the children are determined to help him anyway.
The problem is that Christopher Landon's film is neither funny nor scary. It's clearly aimed at children, but with a cast this good, it has all the ingredients for a great ghost story ever.
We Have A Ghost is clearly influenced by Steven Spielberg. We with more ETs have ghosts and Ernest is a sympathetic supernatural being. In terms of the story and virality that both Marcel and Ernest enjoy in their respective films, we have ghosts and shoes. There are also some similarities between Marcel the Shell wearing the . 
Harbour is clearly having the time of his life and most of the film's best gags involve him. It's a charismatic turn from the actor and a slow-mo sequence of Ernest running through a variety of sets, set to 'Words' by Missing Persons, is a particular highlight.
Jahi Di'Allo Winston makes Kevin into a sensitive protagonist and Isabella Russo is appropriately sassy as Joy. Mackie's star power is somewhat reduced in a supporting role, but the emotional conflict between Frank and Kevin is believable. Mackie especially sells the socks off a monologue late in the film where he opens up to Kevin.
It's such a shame that the script, also written by Landon, otherwise fails to develop any of the characters. Frank is set up as an interesting character; a father desperate to find success and provide for his family, but the character's motivations are never explored. Kevin is also reduced to his desire to help Ernest, nothing about him makes him special or unique.
Bear McCreary's score is wistful and soft, but is often reduced to cliches, making it feel like it was lifted from a different film. Nothing in the film feels original, We Have A Ghost can't escape the heavy weight of its influences.
Landon, who directed the Vince Vaughn slasher Freaky and the Happy Death Day films, is a competent director, but We Have A Ghost is a mess. The CGI is terrible and the obvious green-screen scenes look ugly. The film fails to find its own little niche, succumbing to mixing too many genres and motifs together.