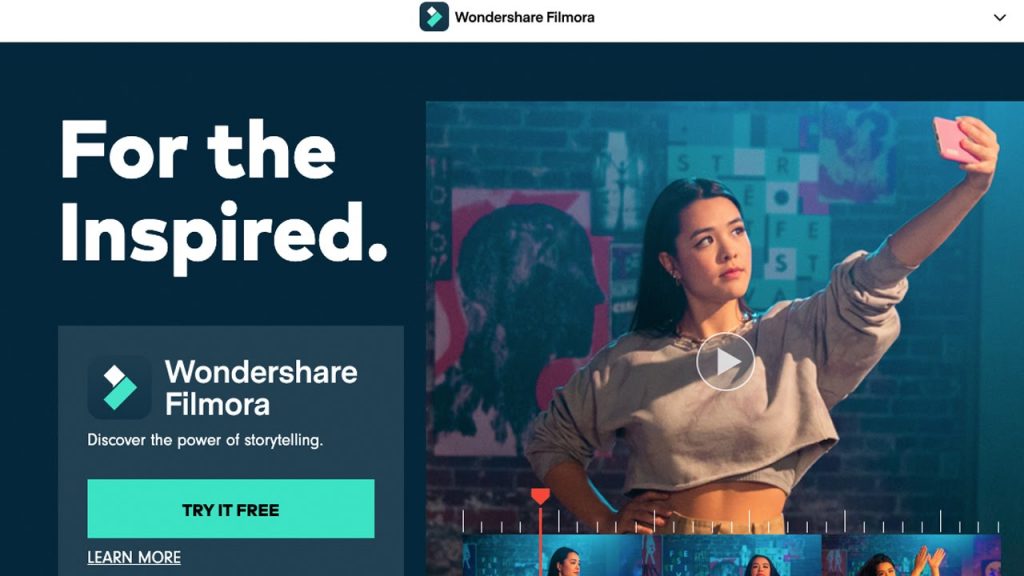 Wondershare is one of the talented software developers who have distributed various tools and software options. One of the most respected leaders in video and related fields, his Wondershare is also synonymous with video editing with Filmora Video Editor. Do a full Filmora review and explore the features included.
An Overview
Filmora has raised the bar for similar tools with its capacity to offer you a wide range of benefits and options such as trimmings, transitions, overlays, and many other effects. If you are an enthusiast in video editing, you will find the tool a great option in the long run.
The balance that video editing programs find between user interface and functionality is one of Filmora's main strengths. It provides a set of features that are not overly complicated, very simple, basic, and easy to use. Support for almost all video formats and the ability to edit HD and 4K videos make it the perfect choice for enthusiasts.
Key Features
Customizable feature set
The interface shares many features common to other popular video editors for Windows, but appreciate Filmora's sleek interface. A beautiful and intuitive user interface is precisely the main USP of the software. The best thing about Filmora Video Editor is that you can configure the interface the way you like it. You can choose between dark and light themes. You can also switch the window border between black and light gray.
Video editing capabilities
That should be the main factor you're interested in. Filmora's video editing options and features are simply top-notch. First and foremost, they are effortless and a tool suitable for beginners and amateurs alike.
Specialized video effects
Good video editors for Windows and Mac have dedicated plugins for the best video effects. Newer versions of Filmora have added new plugins such as FX plugins (OpenFX) such as Boris FX and NewBlue. Apart from that, you'll also find various effects that make it an attractive choice for a good all-time option.
Transitions
Filmora does provide you with a host of transition options making it a go-to tool. You can find over 100 different transitions that are more unique. To make them easy to use, the transitions are arranged in various categories such as Basic, Speed Blur, Warp, Ripple and Dissolve, 3D, Slideshow, Lifestyle, Plain Shape, Filmstock, and Linear.
Motion tracking
The motion tracking on Filmora is yet another unique feature of this free video editing program. It does not come with any huge list of complicated settings but makes it simple and easy to handle. You can choose between multiple blurs and effects to make your motion tracking all the more intuitive.
The feature lets you capture the motion of an object and add text, effects, and captions to it, which allows you to track the moving object on the screen. That would make it a good choice to help you track the motion of an object when shooting or editing a video that depicts some sporting action or a review of any similar action.
Speed Ramping
If you want to create fantastic cinematic effects, speed ramping is one of the unique features. You can control the keyframes with ease and simplicity. Speed ramping lets you make your videos more creative.
Filmora offers you six preset popular speed ramping options to choose. These would include Montage, Hero moment, Bullet Time, Jumper, and Flash in. you also have customized speed ramping options.
AI Portrait
AI Portrait can help you remove the background more accurately. You can also choose from over 70 AI portraits and sticker effects. You can also put AR stickers on the frame. Removing the background from the video is a good option. The AI ​​portrait feature can also detect faces and add effects. It can also be a great way to add special effects to humans. AR stickers and special AI effects are very effective in engaging your audience.
Green Screen
Also known as Chroma screen, the effect has been used by professionals to remove video background and special effects. It can be a great option to change the background in a single click. The Green screen technique lets you add up imaginary situations to your videos.
Pricing and Plans
Filmora is available in various plans and pricing options. You can choose the appropriate option to meet your unique needs. For Individuals – Individual plans include annual and perpetual plans. The annual plan is $49.99 and the perpetual plan is $79.99. For Teams and Enterprises – Available for $155.88/year. This price is for one user. For multiple users, you need to confirm the specific price. Students – Filmora is offered at a discounted rate for students. Annual price is $40.99. You can also choose a permanent plan. Apart from that, you can also choose bundled plans according to your preferences. For more information, please contact Filmora customer service.
Conclusion
Filmora is a powerful video editing program perfect for users who want to focus on their creativity rather than being limited to the technical aspects of video production. A careful balance of easy-to-use interface and professional features makes it cost-effective for both novice and intermediate content creators, while experienced users will appreciate a solution that offers a little more control and customization in the editing process. will be needed.