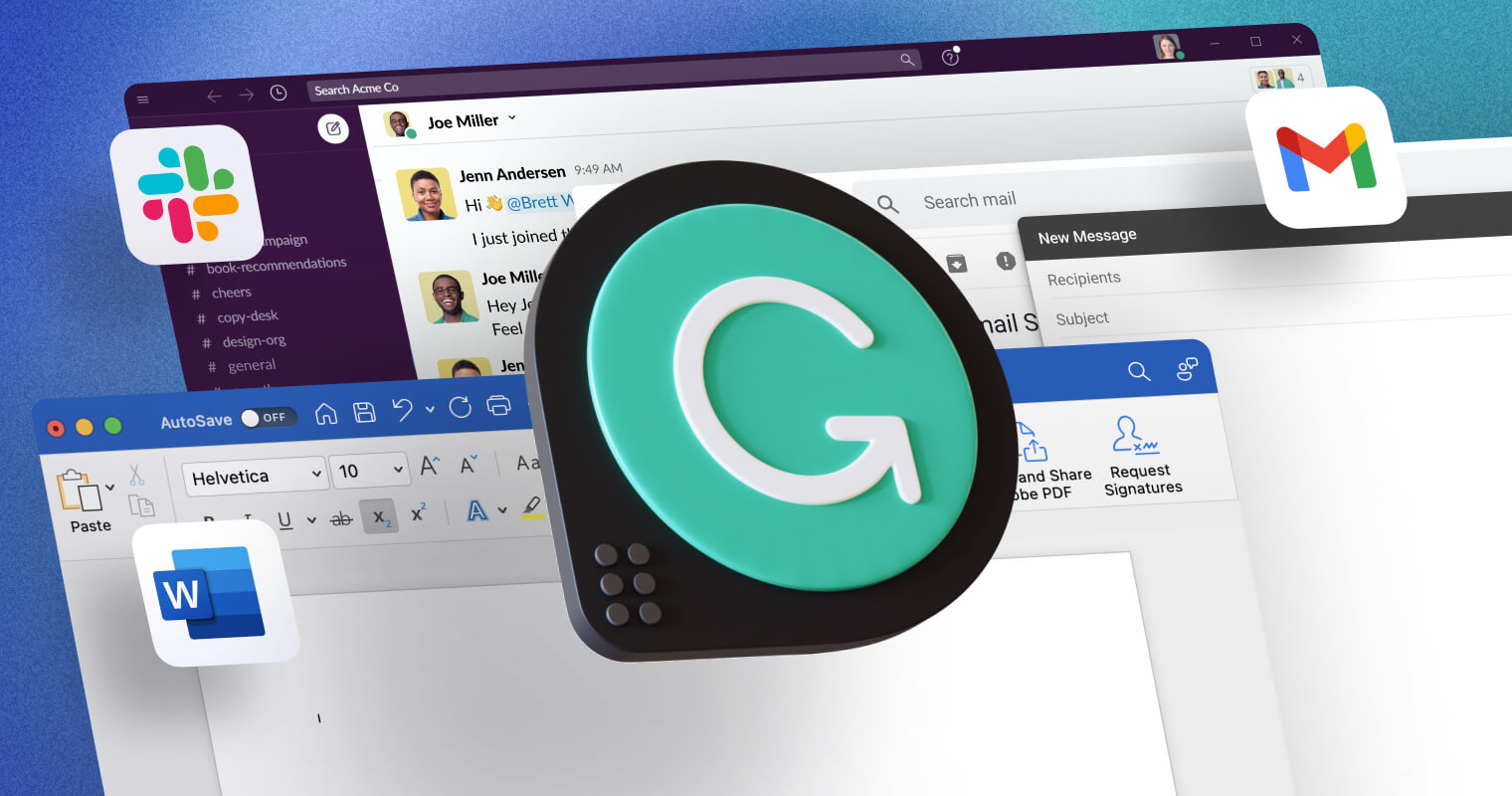 What is Grammarly?
Grammarly is a writing assistant tool that helps users to improve their grammar, spelling, punctuation, and overall writing style. It uses artificial intelligence and natural language processing to identify and correct errors in written text. Grammarly can be used as a browser extension, a standalone application, or integrated into other apps and software. It can also provide suggestions for sentence structure, word choice, and style. It is designed for both native and non-native speakers of English, and can be used for personal, professional, and academic writing.
How does Grammarly work?
Grammarly works in two simple and reliable ways: the in-line checker or New Document.
In-line checker: If you're creating a document, such as with Google Docs, you'll find a small icon at the bottom right of the window. Click that icon, and you'll see the results of the real-time check.
New Document: From your web browser's toolbar, you can click the Grammarly icon to create a new document within Grammarly that will be checked in real-time.
Grammarly offers free and paid plans. Businesses should choose the Premium plan because it offers a few extra features that are quite beneficial. Let's take a look at what makes Grammarly Premium a necessity for many businesses and professionals.
Grammarly Premium's pros
More than 400 types of checks and features, such as tone, word choice, subject-verb agreement, sentence structure, plagiarism and citations.
Real-time grammar correction.
It's remarkably accurate.
Easy to understand explanations for corrections.
Customizations such as preferred language, the ability to disable certain sites, and personal dictionaries.
Seamless usability.
Makes editing documents fast and simple.
Well-designed UI.
Grammarly Premium's cons
It doesn't work well with tools like the WordPress editor.
An aggressive and constant push to upgrade your account.
It doesn't learn the writer's voice.
Not every correction is accurate.
How much does Grammarly Premium cost?
Grammarly Premium costs $12.00/month, but you can try it for free for seven days. For the free trial, you have to enter a valid credit card number, but you can easily cancel any time before the trial expires, and your card will not be charged.
To benefit from the Team features, you must upgrade to Grammarly's Business plan, which costs $15.00/member/month. The Team features include a company style guide, snippets, brand tones and an analytics dashboard.
Grammarly Premium features
Grammar, spelling, and punctuation.
Spelling and punctuation consistency.
Fluency checks.
Full-sentence rewrites.
Formatting checks.
Word choice and word and sentence variety.
Tone detection and suggestions.
Inclusive language.
Auto-citations and formatting.
Plagiarism detection.
Enterprise-grade privacy and security.
Grammarly insights gives you weekly detailed information on how you are performing and how many words it has checked.
Web browser extension allows you to quickly configure Grammarly and create a new document.
Is Grammarly Premium worth it?
| Feature | Grammarly Free | Grammarly Premium |
| --- | --- | --- |
| Basic grammar and spelling checks | ✔️ | ✔️ |
| Clarity and conciseness suggestions | ❌ | ✔️ |
| Vocabulary enhancement suggestions | ❌ | ✔️ |
| Genre-specific writing style checks | ❌ | ✔️ |
| Plagiarism checker | ❌ | ✔️ |
| Advanced punctuation, grammar, and sentence structure checks | ❌ | ✔️ |
| Personalized writing insights and suggestions | ❌ | ✔️ |
| Microsoft Word and Outlook integration | ❌ | ✔️ |
| Access to the Grammarly mobile app | ❌ | ✔️ |
| Premium customer support | ❌ | ✔️ |
The answer to whether Grammarly Premium is worth it depends on your needs. If you're an individual looking to simply clean up your writing, the Grammarly Free plan will probably suffice. If you're a professional writer or a business needing to keep content error-free, clean and consistent, Grammarly Premium is an absolute must. The $12.00/month fee for Grammarly Premium is a pittance considering the benefits you gain from the service.
My job would be considerably more challenging if I had to rely only on built-in spelling and grammar checkers – I've seen Grammarly catch exponentially more issues than any built-in checker. In addition, my experience is that Grammarly's checkers are considerably more accurate than any other on the market. Anyone serious about generating the cleanest, most professional content possible should consider Grammarly Premium a no-brainer.