In today's digital age, planning and booking travel has become easier than ever before. With numerous online travel agencies (OTAs) available, it can be overwhelming to choose the right one. Kayak is a well-known name in the travel industry, offering a comprehensive platform for travelers to search and book flights, hotels, car rentals, and vacation packages. In this article, we will review Kayak's features, functionality, and user experience to help you decide whether it's the right platform for your travel needs.
User Interface and Ease of Use
Kayak boasts a user-friendly interface that is easy to navigate, making it convenient for both novice and experienced travelers. The homepage features a simple search bar where you can input your destination, travel dates, and other preferences. The website is well-organized, allowing users to quickly find the information they need without any hassle.
Comprehensive Search Options
One of the standout features of Kayak is its extensive search options. Users can customize their searches by filtering based on factors such as price range, airlines, flight durations, layovers, and more. Additionally, Kayak offers a flexible search feature that allows users to find the best deals within a certain timeframe, perfect for travelers with flexible travel plans.
Price Comparison and Alerts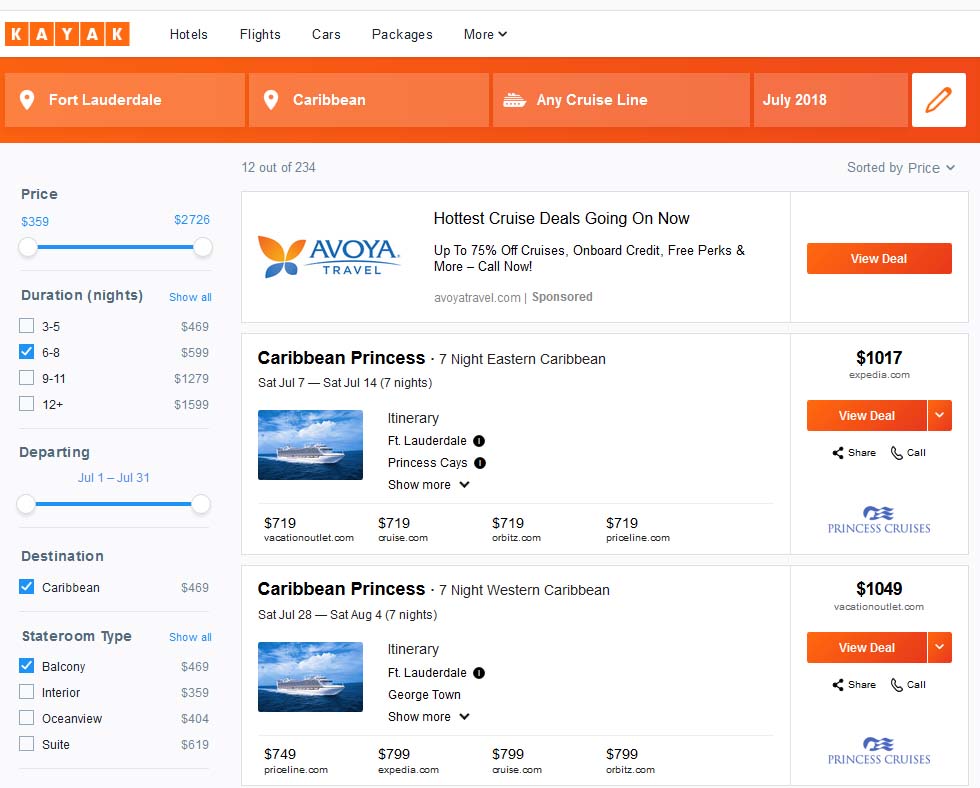 Kayak is primarily known for its ability to compare prices across multiple platforms. When you search for a flight or hotel, Kayak scours through various OTAs and airline websites to provide you with a comprehensive list of options. This feature ensures that you can find the best deal available, saving you both time and money.
Furthermore, Kayak offers price alerts, which can be extremely beneficial for budget-conscious travelers. By setting up alerts for specific routes or destinations, you will be notified whenever there is a price drop, enabling you to seize the opportunity and book your travel at a lower cost.
User Reviews and Ratings
Another useful aspect of Kayak is the inclusion of user reviews and ratings. When searching for accommodations, you can access reviews from previous guests, helping you make an informed decision. It's always valuable to hear from other travelers who have stayed at the property you're considering, as their experiences can provide valuable insights.
Travel Planning Tools
In addition to booking flights and accommodations, Kayak offers a range of travel planning tools that can enhance your overall experience. The "Explore" feature allows you to discover new destinations based on your budget, travel dates, and interests. You can also create a "Trips" itinerary, organizing all your travel details in one place for easy reference.
Mobile App Experience
For travelers who prefer to use their smartphones or tablets, Kayak provides a mobile app that replicates the functionality of the website. The app is well-designed, intuitive, and offers all the features available on the desktop version. It allows you to book and manage your travel plans on the go, making it a convenient option for frequent travelers.
Pros of Kayak
Fast search results
View prices directly from carriers and third-party websites
Price trend prediction
You can book almost any way to travel with Kayak
Website and app are very user friendly
Cons of Kayak
Cannot book directly on Kayak
Hotel search results might rely too much on third-party booking sites
No loyalty program since it's only a search engine
Limitations and Considerations
While Kayak provides numerous benefits, it's important to consider some limitations as well. Kayak itself does not handle the booking process; it redirects users to other platforms to complete their reservations. As a result, it's crucial to research and review the specific OTA or airline you choose, as their policies, terms, and customer support may vary.
Furthermore, while Kayak compares prices across various platforms, it's always recommended to cross-check prices directly with the airline or hotel website. Occasionally, you may find better deals or exclusive offers by booking directly.
Customer Support
When it comes to customer support, Kayak offers several channels to assist users. Their website features a comprehensive help center with frequently asked questions and informative articles. Additionally, you can reach out to their support team via email or social media channels. It's worth noting, however, that Kayak primarily serves as an intermediary platform, and the actual customer support may depend on the OTA or airline you book with.
Conclusion
Overall, Kayak is a reliable and user-friendly platform that offers comprehensive search options, price comparison features, and useful travel planning tools. Its intuitive interface and extensive database of options make it a valuable resource for travelers seeking the best deals. However, it's essential to research individual providers and verify prices independently. With the right precautions, Kayak can be a valuable tool to help you book your travel efficiently and cost-effectively.