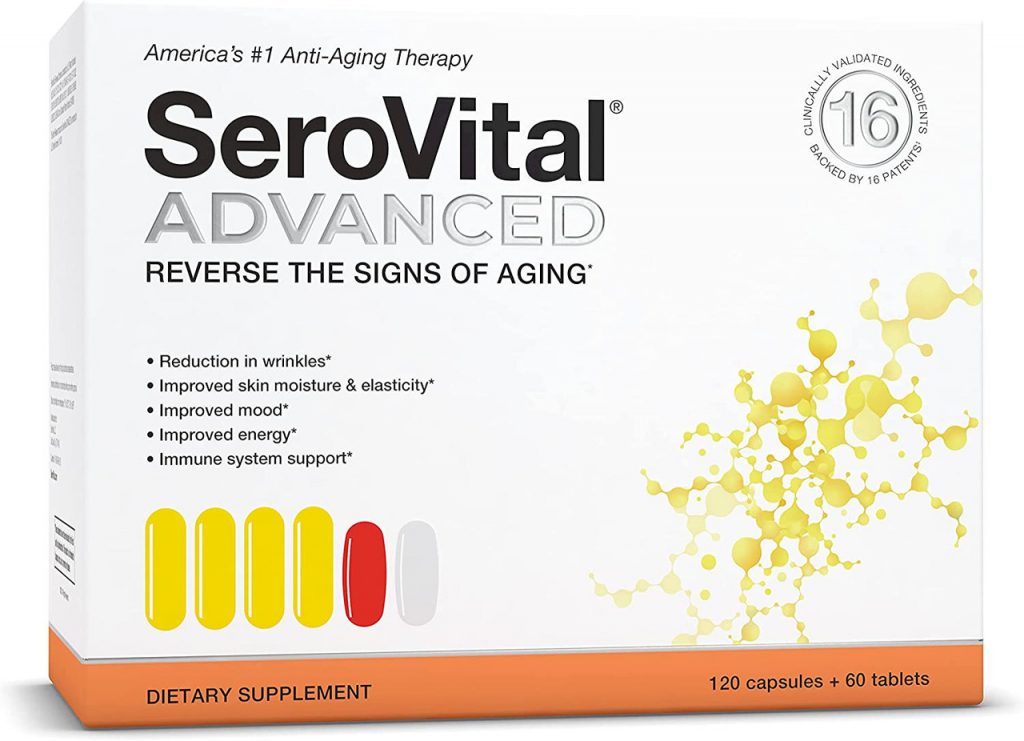 SeroVital is a human growth hormone (HGH) supplement that claims to promote anti-aging. However, there is not enough evidence to prove that it actually works.
SeroVital claims to increase blood HGH levels by 682%, leading to benefits such as increased muscle mass, weight loss, smoother skin, improved sleep quality and increased stamina, but these claims are not true. None of them are supported by sufficient approved scientific or medical evidence. Evaluated or confirmed by FDA.
What does SeroVital contain?
According to the label information, SeroVital contains a blend of certain amino acids. Although this supplement claims to increase the HGH levels, it does not actually contain HGH.
Main ingredients:
L-lysine hydrochloride (amino acid)
L-arginine hydrochloride (amino acid)
Oxo-proline (amino acid derivative)
N acetylcysteine (amino acid derivative with antioxidant and mucolytic activities)
L glutamine (amino acid)
Schizonepeta powder (made from parts of a herb)
Other ingredients:
Gelatin
Magnesium stearate
Stearic acid
Rice flour
Microcrystalline cellulose
Riboflavin
Silicon dioxide
Titanium dioxide
Candurin silver fine
Is SeroVital Safe?
All of SeroVital's ingredients are natural and safe in limited daily doses. Therefore, the use of this dietary supplement is not dangerous even when taken for an extended period of time.
When in doubt about SeroVital side effects, the ingredients in the product don't really matter. However, questions arise about the effects of overproduction of human growth hormone on the body.
Studies have shown that long-term adverse effects associated with human growth hormone hGH include:
ventricular hypertrophy
exacerbation of diabetes
high cholesterol
joint pain, muscle pain, neuralgia
SanMedica International says you can stop taking the supplement at any time, but some users have reported withdrawal symptoms such as drowsiness and lack of energy. Studies have shown that hGH withdrawal can cause serious side effects such as depression and hypersensitivity.
How does it work?
The combination of ingredients in SeroVital is expected to work best when taken regularly. Marketed to women above their 40s, this product can be used by persons 18 years of age and older.
The recommended dose is four yellow tablets on an empty stomach two hours after eating and not eating anything for the following two hours. It is important to take this supplement without food in your system since it may interfere with the formula's effectiveness.
Once you start taking this supplement, you should expect to see results within three months. During this time, you must take the doses without skipping a day. The positive effects of SeroVital only last as long as you are taking the supplement.
For even better results, users should combine the regular use of this supplement with dietary changes and exercise.
SeroVital Pros and Cons
Pros
It is the result of years of studies and has been around for a long time
Readily available in the United States
The products used in the formula are FDA-approved.
30-day money-back guarantee
Cons
The price may be expensive
Studies that back it up are incomplete
SeroVital high dosage (4 pills on an empty stomach) required
Side effects have been reported
Review of SeroVital Cost
The price of the same box varies depending on the program you choose. If you only want to try one package for a 30-day supply, then the cost for SeroVital is $79. However, if you commit and subscribe, you get each box at $99. Those who want to give the 90-days challenge a try get three boxes at $229 – a value of $76 per package.
SeroVital Advanced is about $20 more for each option. If you find this too expensive, other products can better fit your budget.
Review of SeroVital Privacy
SeroVital will not sell or distribute your information to third parties. The way they handle your personal information is per their policy, which guarantees that it will only be used for the purposes clearly established.
Personal information is only used to process orders and subscriptions. This information, however, can be used to better market their products to you.
Like any other websites, this one uses cookies, JavaScript tags, and Web beacons to optimize your browsing experience by tracking the site's usage.