WHAT IS VIVID SEATS?
Vivid Seats is an online marketplace where you can buy and sell tickets for live events. The ticket resale site is based in Chicago and was founded in 2001. Vivid Seats provides a convenient way for people to buy and sell tickets to their favorite shows and concerts.
The company has an easy-to-use website and offers buyer protection in the form of a 100% Buyer Guarantee on all tickets. Additionally, Vivid Seats offers a mobile app that lets you buy and sell tickets on the go. Whether you need a front row seat to the hottest concert in town or want to grab last minute tickets to a game, Vivid Seats could be a platform to try.
HOW DOES VIVID SEATS WORK?
One of the benefits of using Vivid Seats is the ability to find tickets for sold-out live events. Tickets are constantly being bought and sold, so there's a good chance you'll find the ticket you want.
However, keep in mind that ticket prices can be higher than face value. This is because people are free to set their own prices.
If you've ever had tickets to an event you couldn't attend, you know how frustrating it can be. Not only are you wasting money on tickets that don't work, you're missing out on the event itself.
If you have tickets for an event that you can't attend right now, you can sell them at Vivid Seats. Resale is a great way to get your money back if your plans change, and can often be profitable as well.
AS A SELLER
There's nothing worse than missing out on a great event because you can't attend. But if you've already bought your ticket, there's no reason to waste it. With Vivid Seats, you can sell your tickets to other fans to enjoy your event and get your money back.
You can easily post your tickets on the website and set your own prices. Plus, you don't have to worry about selling to a scalper. Vivid Seats is a secure platform, so you can be sure of getting a fair price for your tickets. Next time you get tickets to an event you can't attend, don't despair. Simply register with Vivid Seats and sell tickets for cash.
AS A BUYER
Vivid Seats makes buying tickets easy – simply search for the event you want to see and browse the available tickets.
Additionally, their loyalty scheme, known as the Vivid Seats Rewards program, offers points towards money off future purchases.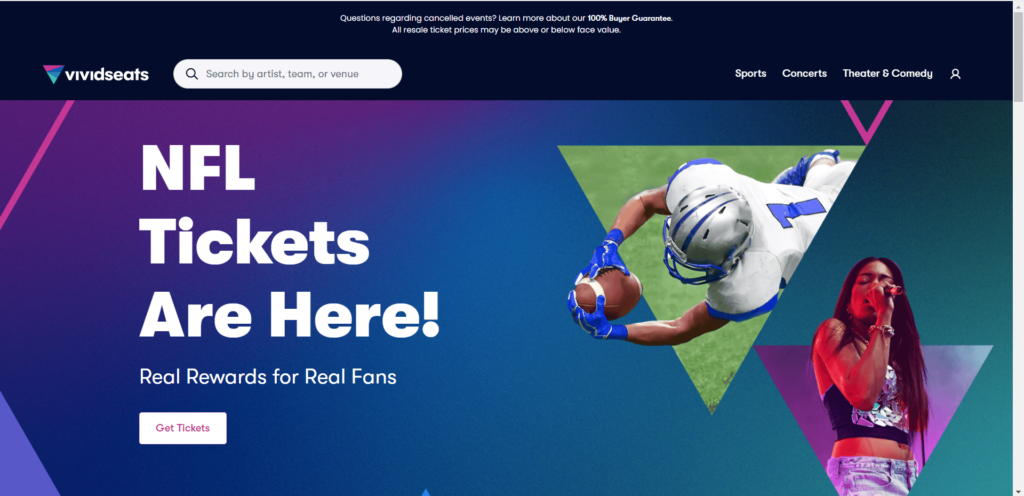 THE FINAL VERDICT
Yes, Vivid Seats is a legitimate platform for buying and selling tickets. If you're looking for tickets to your favorite concert or sporting event, Vivid Seat is the place to go. After all, ticket exchanges promise a "buyer's guarantee" that appears to offer protection against fraud.
Unfortunately, many customers have found the guarantees to be unreliable. There are many reports. Also, when I asked Vivid Seat customer service for help, I got an unhelpful answer.
On the other hand, there are many people who have purchased tickets from Vivid Seat and had a very positive experience.